1st Annual Great Pumpkin Giveaway
Compass Credit Union celebrated its first annual Great Pumpkin Giveaway recently. The event welcomed hundreds of families from northern Kent and Newaygo counties, as approximately 1000 pumpkins were given away to Compass Credit Union members.
Members were allowed to come to either of Compass Credit Union's two locations, one in Fremont and the other in Sparta, to pick up their free pumpkins.
"This was the first time we did this, but it certainly won't be the last," said President and CEO Erika Bauer. "We ordered several hundred pumpkins to be brought in and given out at our two branches, and by mid-morning we were calling a local grower and asking him to quickly bring more."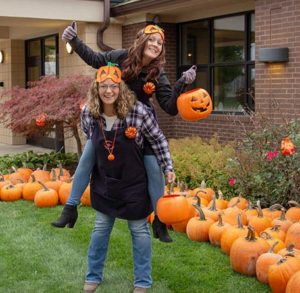 "The response from our members was just tremendous. It really brings us all back to what credit unions are about."
"This event was really just the beginning of a larger plan to get our credit union more involved in the local community," Bauer said. "We've spent most of the last year bringing these two credit unions and our memberships together, and I think we're all anxious to get back out and embrace the memberships that made this credit union what it is today."
The pumpkins were purchased from local grower Bob Alt, who grew the pumpkins just outside of Sparta.
Why do we give the way we do? Because YOU OWN THIS PLACE!
That's the credit union difference…